The following topics will be covered in this announcement:
Eligibility of property with an ADU
Rental Income generated from an ADU
VA Circular Update
Desktop Appraisals
Tax Transcripts
Maximum Borrower Concentration
VA Maximum Loan Amount
Reminder of COVID overlay for Self-Employed Borrowers
Ability to cancel loans in TPO Connect
Regional Operations Email Boxes
Reminder- Key Investor Updates are available in policy guidelines/AllRegs
FHLMC-Eligibility of a property with an Accessory Dwelling Unit (ADU). FHLMC will purchase an eligible mortgage secured by 1, 2, or 3 unit property that has one ADU. The ADU must include a kitchen, bathroom, separate entrance, be independent of the primary unit, subordinate in living area and less in value than the primary unit. (5601.2)
FHLMC-Rental income generated from an ADU could be considered. To allow rental income from an ADU on 1 unit Primary Residence, the following requirements must be met, ADU must comply with zoning and land use requirements, the appraisal must include a minimum of one comparable sale with an ADU that is rented, if an ACE appraisal waiver is offered; it must not be accepted, rent from ADU must not exceed 30% of the total stable monthly income, and at least one qualifying borrower must participate in a landlord education program or have previous landlord experience of one year. (5306)
VA Circular, 26-22-11– Effective immediately, VA is authorizing in advance, as a local variance, that Veterans may be charged pest inspection fees where required by the NOV. Veterans may also pay for any repairs required to ensure compliance with the MPR's. Veterans can negotiate the cost of inspection and repairs with the seller. These costs must be verified with an itemized invoice. The Lenders should include the invoice in the loan file when submitted.
Desktop Appraisals- The Agencies have updated their lists of eligible transactions for desktop appraisals. Eligible transactions include 1-unit property (including those with an ADU and units in a PUD), principal residence, purchase transaction (including new construction), LTV < 90% and when an AUS loan casefile approval has been issued. Ineligible transactions include, 2 to 4 unit properties, condo and co-op units, manufactured homes, 2nd homes and investment properties. (Refer to B4, 1.2-02 FNMA and 5604.1 FHLMC Guidelines)
PHH Policy Updates
PHH Overlay-Tax Transcripts -As a result of IRS processing delays, PHH temporarily suspended its overlay requiring the most recent 1 year personal IRS tax transcripts for self-employed borrowers when tax returns are used to qualify. This temporary waiver has been extended to August 15, 2022.
Maximum Borrower Concentration-PHH has established a new risk policy that limits borrower concentration to a maximum of 4 loans with an aggregate loan amount of $3M in the overall servicing portfolio. This policy will be updated in the PHH Mortgage Seller Guide.
VA Maximum Loan Amount- PHH has established a VA maximum loan amount of $2.5M. This policy will be updated in the PHH Mortgage Seller Guide.
Reminder of COVID overlay for Self-Employed Borrowers- The PHH COVID overlay for Self-Employed borrowers only applies when qualifying income is derived from self-employment documented using federal income tax returns is prior to 2020. Standard Selling Guide polices should be applied when 2020 or 2021 tax returns have been received. Verification that the business is open and operating within 20 business days of the note date is required for the use of self-employment income. This requirement will continue for self-employment income until further notice.
Ability to Cancel a Loan in TPOC-Clients are now able to cancel/withdraw a loan in TPOC. This action triggers a notification to the PHH Rate Lock Desk which will take the required actions to cancel/withdraw the loan. The "Withdraw Loan" option is available in the Loan Summary Menu.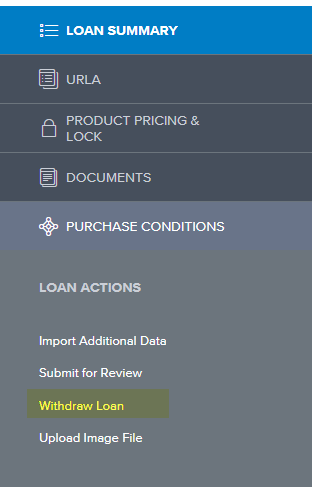 Regional Operations Email Boxes- The Correspondent Specialists have moved to Regional Support Email boxes to serve our clients more efficiently. Please see the listing below with the email addresses for each region. The boxes are setup based on Regional Sales Executive (RSE) and are listed here.
Regional Email Box
Regional Sales Executive
CorrSupportWest@PHHMortgage.com
Edward Fitzgerald
PJ Harrigan
Sean Claypool
Shannon Smith
Taylor Adams
CorrSupportCentral@PHHMortgage.com
Brad Buchanan
Joe Garcia
Kelly Rose
Nicole Williams
Tracey Dace
CorrSupportEast@PHHMortgage.com
Bob Favicchio
Chris Romano
Jud Marcus
Karen Bausman
Nathan Rohrmeier
Updated resources are now available for you on our website at https://correspondent.phhmortgage.com/ . You will find FAQ's, Announcements, Seller Guide, AllRegs, Tools & Forms. Resources cover a wide range of subjects, including a breakdown of our Seller Guide by chapter/section for your convenience.
If you have any questions, please contact your Regional Sales Executive, or contact us via the support line 1-800-929-4744, Email inquiries can be sent to PHHCorrSupport@PHHMortgage.com or RateLock@PHHMortgage.com.
Thank you for your continued business.