Investor Connect is now available!
Encompass Investor Connect is now available at PHH Mortgage to enable our lenders to establish a secure system-to-system workflow to ensure the delivery of accurate, fully compliant, and tamper-proof loan data and documentation.
As we mentioned previously, the benefits of Encompass Investor Connect are:
Faster, more accurate loan delivery
Reduced operational costs
Improved quality and purchase times
Eliminates multiple logins
Ability to deliver individual or batches of loans
What to do next
To use Investor Connect, you must first setup a Partner Account. Follow these steps to setup the Partner Account:
On the menu bar, click Encompass, and then click Settings.
On the left panel, click Company/User Setup, and then click Services Password Management.
Click the New icon.
On the Account Details screen, select a Service Category from the drop-down list.
Select a service provider from the Provider Name drop-down list.

If there are no providers listed, you cannot set up a password account using the service category you selected; go back to the Service Category to make another selection from the drop-down list.

Enter a description for the account.
Enter the login credentials that will be used to access the service. Your credentials are: Username: PHH Mortgage Password: 5 Digit Client ID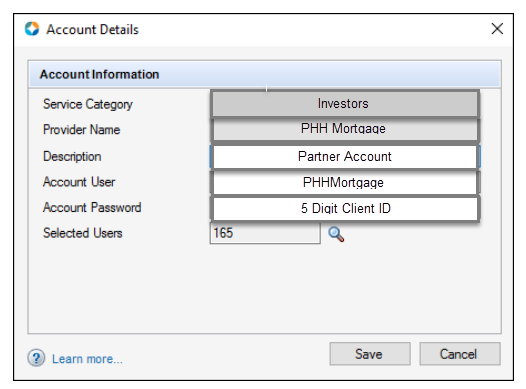 Once setup is complete, PHH Mortgage will be available in your list of Investors in the Loan Delivery Service. Please be aware that you will submit only closed loan files through Investor Connect. You are now partnered with PHH Mortgage and are ready to deliver your closed loan files.
REMINDER: If a loan is submitted through Investor Connect; do not resubmit through TPOC and vice versa. Please submit via one system only.
If you have any questions, please contact your Regional Sales Executive, or contact us via the support line 1-800-929-4744, Email inquiries can be sent to PHHCorrSupport@PHHMortgage.com or RateLock@PHHMortgage.com.
Thank you for your continued business.